What my golf game taught me about risk.
Mastering the fine art of taking chances and executing well.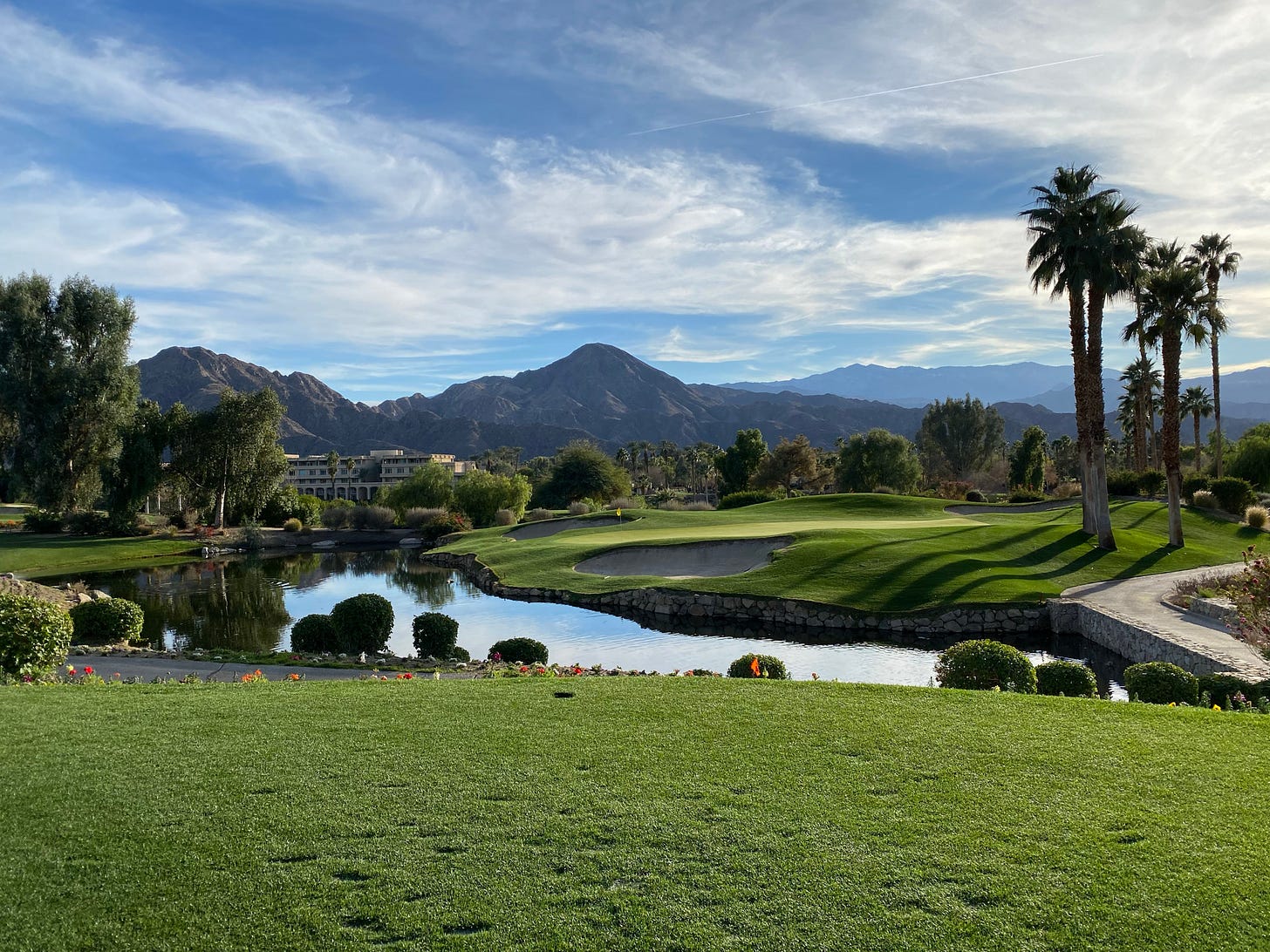 A few months back, I had a chance to play both courses at Indian Wells in Palm Springs, California. This is my story of how golf is teaching me new things (and for the first time I'm not talking about humility!).
On day one, I played the best golf of my life on the Celebrity Course, a luscious, green monument to golf in the desert. It gave me loads of confidence heading into day two. The Players Course was the more challenging of the two courses, but I felt confident having a great outing the day prior.
The Players Course has a fun par-4 thirteenth hole (a dog-leg right). It plays uphill to a plateau at the crook of the dog-leg and then downhill and to the right toward the green.
I played my tee shot to that plateau, setting up a second-shot approach to the green. This green was guarded by two large bunkers in the front, separated by a comically small section of fairway as a front porch (maybe ten feet wide). The pin placement was very much to the front, near those bunkers.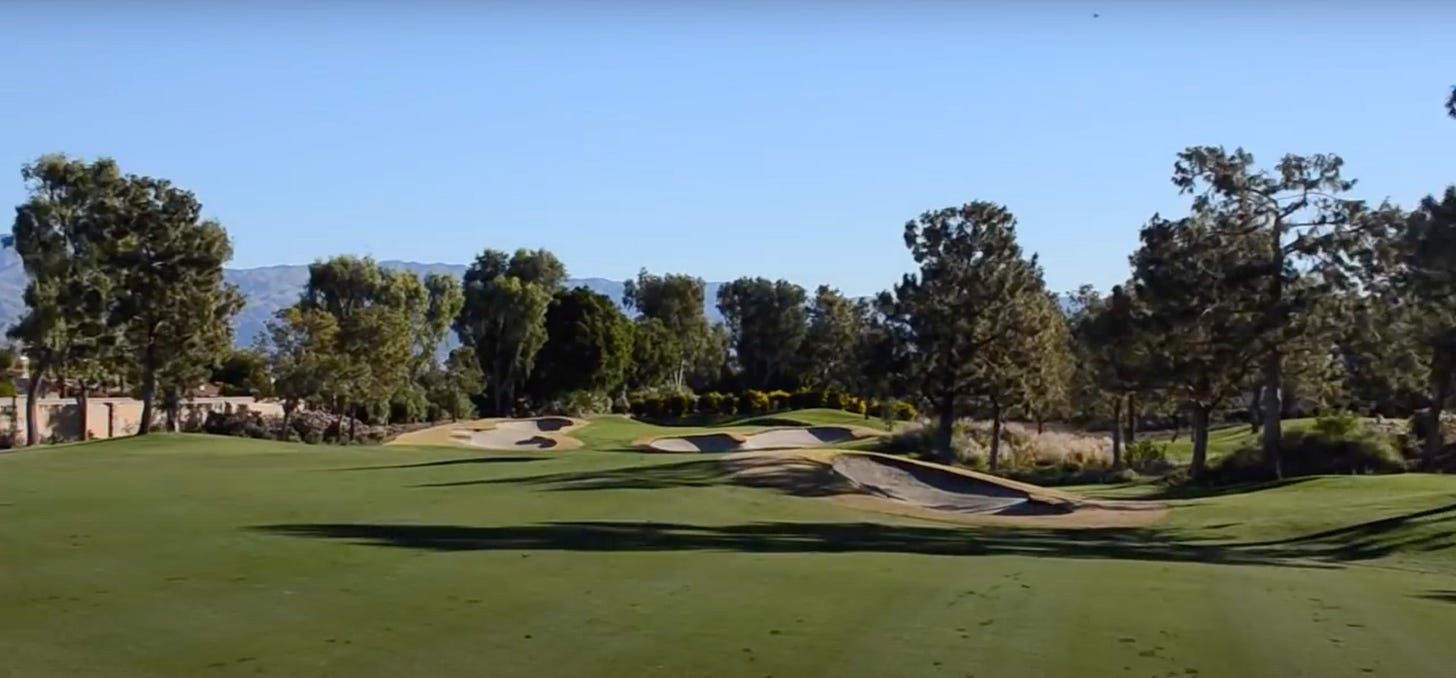 Thanks to Me and My Golf for their review of The Players Course and my screen-cap above. Here's a link to their course review if you're interested.
---
The risk/reward on this second shot was evident and the reward was tempting.
My driver is the weakest part of my game, so because I felt that I was in good position to par the hole (from a distance perspective), I wanted to take advantage of that. The risk, of course, is that I'd end up in one of those bunkers and leave with a bogey or worse.
It's kind of like life.
Sometimes, we do things that surprise us. Often, the next decision is the biggest – "Do I parlay this success into more success?" "Do I play it safe, content with my gains to this point?"
And much like moments that have happened in the real world, I brought them to the forefront of my memory while making that decision on the golf course. I tell my team all the time that 'playing not to make a mistake is the mistake'. So I made my decision. I was going to go for it.
All that was left was to hit the shot…
…
…
…
…and the ball did exactly what I wanted it to do.
I crushed it.
---
It landed ten feet from the pin in that luscious patch of fairway splitting both bunkers, right on the edge of the green. One quick chip on and an easy putt got me out of there with a par. Mission accomplished.
Why did this seemingly unlikely event occur? Thinking back, here's what I've got:
1. I had proper situational awareness.
I know my distance limitations and I knew that I wasn't going to play it long. Because the pin was nestled in the front of the green, landing there left me three options: putt from close, chip on from just off the green, or play my 60 degree from either bunker.
Those were better options than clubbing up, playing safely, and trying to drain a fifty-footer off the back half of the green. My other safe play – hitting it intentionally short – may have involved carrying a bunker on my third shot, something I'd rather not do.
In life, this is known as being self-aware and staying in your lane. An inflated sense of your abilities is usually the quickest way to scoring a triple-bogey or allowing your cash flow to dip $20,000 next month.
2. I had the right tool.
It was my trusty four-hybrid, which at this point is basically an extension of my arm. I've had the club for years, I know what I can get out of it, and it's one of the few clubs I can use to really shape shots.
I had an uphill lie, giving me liberty to play my patented, uh… fade. Yeah that's it. We'll call it a fade.
Ever taken a sharp curve doing sixty in a rental car on a wet road? Unless you're a psychopath, probably not. It's much harder to execute with tools you're unfamiliar with, leaving us with two options: get more tools or master the ones you've got.
3. I had confidence.
I surely would not have "gone for it" without playing well on the Celebrity and holding my own to that point on the Players. It's the old adage – what have you got to lose?
Sometimes you're just feeling it. But even if you're not, it's okay to risk it and let the chips fall where they may. If you ask for the raise or negotiate the salary and get rejected, you're no worse off than before. In fact, even in rejection your confidence can grow because there's something affirming about taking your shot and giving it your best.
---
The Little Win* 
Besides hopping onto a golf course (which we should all just go and do right now), what's the best way to practice taking risks?
Your fill in the blank will be different, but it involves finding failure. Create scenarios that offer a seemingly limited chance of success with large upside.
It could be the cold-call of a prospect. Maybe it's launching the minimum viable product of something you've been nervous to show the world. Whatever it is, if you're more comfortable failing, you're more likely to take additional risks.
The guy who waits to nervously ask out his dream girl is less prepared than the guy who does it all the time. I'm not necessarily condoning the wide-net approach, but there's no doubt that someone who doesn't fear rejection will go into a situation more confidently. They've got nothing to lose!
Give it a try and let me know how it goes.
*The Little Win is a call-to-action that helps us become the best version of ourselves.
---
Thanks for reading! 
Creating Future Wins is my blog about life, leadership, and lacrosse. My heart is to create a mixture of writing that you can't find anywhere else and I'd love for you to be a part of this journey. Hit that subscribe button and of course, if you value what I'm doing here, I'd love for you to subscribe to my premium content.
Let me know your thoughts. Email me or @ me on Twitter (@JaysonSchmidt).