This post is the second in a series about recruiting for high school athletes and their parents. Here are links to part one, three, and four. Enjoy!
---
If you're pursuing a lacrosse career in college, you're in luck. Contrary to popular belief, it's not difficult to find the right fit for yourself. In fact, there are 802 opportunities to play college lacrosse around the country.
Of course, this might not be what you've heard. Anyone giving you information has a bias, myself included, and you've probably been steered in one direction or another. Maybe it was someone that wanted you to follow in their footsteps or the club coach looking for another high-profile Division 1 commit.
Despite my Palm Beach Atlantic is great bias, here's a look at six different levels of college lacrosse where you can find a home––––
Division 1
The "top-tier" of NCAA lacrosse is Division 1 and it plays host to 117 teams. You'll find the typical lacrosse power programs like Maryland and UNC, the elite Power 5 programs like Florida and USC, and beyond that, there's a heavy mix.
As it is with any division, it's on you to find what you desire in a college. Want to go (or stay) out west? You'll find opportunities at public research universities like UC-Berkeley and San Diego State. Looking for an up and coming private institution in the South? Elon or Jacksonville might be a great fit.
Don't buy the lie that you have to play Division 1 or that Division 1 is for a specific "type" of lacrosse player. Just like you're a unique athlete with a unique skill set, so is every lacrosse program. In every conference, there's a guaranteed champion and a team in last place. Assuming your skills can line up with both programs, you have to ask yourself one question–––– "Do I want to go to a winning program or build one?"
---
Division 2
Let's start with the obvious — I love Division 2 (and it's not just because I coach one of its' teams). I think our division is an incredible fit for any student-athlete looking for a great mix of academics and athletics. And you can find that at any one of our 111 member schools.
I'm a big fan of the division's old slogan ("Life in the Balance") because in my mind you get the best of both worlds. The academic piece is valued and prioritized while the athletic piece is honored as well.
In Division II, you'll find schools that offer nice athletic aid packages and others that run on a shoestring budget (if they've got one at all). For 99% of programs in this division, they're not fully funded–––– meaning that their school does not provide the maximum 9.9 scholarships allowed by D2.
Many schools will give a program one scholarship per class or roughly four total scholarships to divide amongst a team. Some less and some more. This is applicable for NCAA Division I as well.
---
Division 3
This is the biggest opportunity for any prospective college lacrosse player, with 297 schools that will sponsor lacrosse in the 2018–19 academic year. To quote Owen Wilson, "Wooooowwwww." That's 300 opportunities to play lacrosse ––––– from the NESCAC to the Pacific Northwest and back.
Here you'll find smaller, often private, academically-oriented schools with a median undergraduate enrollment of 1,748.
Additionally, Division III colleges do not offer athletic scholarships, but don't let that dissuade you–––– 80% of all student-athletes receive some form of academic grant or need-based scholarship. The average size of those awards? Over $17,000.
That's a not-so-tiny nugget to consider when weighting the $10,000 in academic and another $2,000 in athletic from a Division I or II counterpart.
---
NAIA
The NAIA (National Association of Intercollegiate Athletics) is home to 37 programs that rank in similar size to their Division II or III counterparts.
The NAIA is a completely separate organization than the NCAA, which is often confusing for many recruits who ask, "What division does your school play in?"
Due to a smaller percentage of NAIA colleges and universities that sponsor lacrosse, the sport as a whole sponsored in the "invitational" phase. This is one level above an "emerging" sport and one level below full championship status. NAIA teams will still compete to a berth in the NAIA lacrosse invitational, however.
In the NAIA, a sport reaches invitational status by having 25 or more institutions sponsor the sport as a varsity intercollegiate sport and declare their intent to participate in a NAIA postseason competition. With 37 teams, it is simply a matter of time before the NAIA becomes a fully-recognized championship sport.
The NAIA is also unique because, like NCAA Division I/II, it has the option to offer athletic scholarships.
---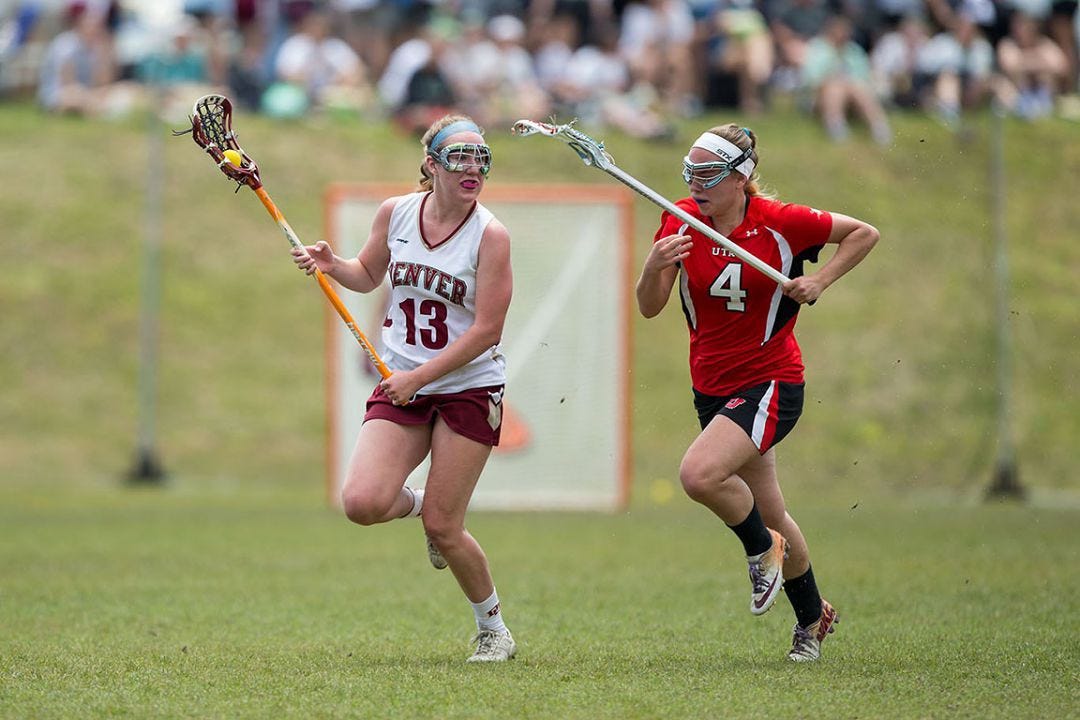 WCLA
With more than 200 non-varsity programs from two divisions in its ranks, the WCLA is as large as it is talented. As it is with any division, the "club" ranks are diversified. Here you'll find club teams from universities with varsity programs (like Virginia, UNC, and Boston College) in addition to those without varsity lacrosse (like Pittsburgh, Colorado State, and UCF).
But it's not just the big schools, either. In the WCLA's Division II, schools like Concordia (Calif.), St. Thomas, and Oakland sit comfortably in the Nike/US Lacrosse Preseason Top 20 poll.
Just as one might point out the differences in school size or talent, the WCLA is home to varying levels of organizational structure. Many programs employ the traditional setup of a student-run leadership group, while others (typically smaller schools) utilize more institutional resources and support. Some practice every day of the week, others not so much.
The WCLA is a great option if you've got your sights set on playing lacrosse in college but need a specific degree or opportunity.
---
NJCAA
The National Junior College Athletic Association is the official governing body for the JuCo circuit. There are 20 programs split by regions throughout New York, New Jersey, and Maryland. (Of course, the NJCAA extends nationally, but its' only member schools for women's lacrosse are in those states.)
If you live in those areas or are willing to move there, these schools offer a great opportunity to earn a cheaper education and play lacrosse. Though many junior colleges (also known as community colleges and state colleges) are beginning to offer four-year degree plans, most JuCo athletes move on to other opportunities across all divisions listed above.
The junior college route is perfect for a student-athlete that is uncertain of what they want to study or would rather knock out all general education courses at a cheaper price. Additionally, junior college is great for "late bloomers" and other athletes who might rather see meaningful time on the field developing their skills in lieu of getting lost in the shuffle at a four-year university.
If you're a current collegiate lacrosse player but haven't found your fit, this is also a great avenue. Under NCAA Division 1/2 rules, athletes can complete a 4–2–4 transfer. You can leave your initial college, graduate from a junior college, and be immediately eligible to play at another four year school.
---
So there you have it… more than 800 opportunities all with their own quirks and caveats. It's up to you to find your very best option.
And a bonus thought:
Do your best to remain grounded and avoid chasing athletic dollars. After all, 2% of high school athletes are awarded some form of athletics scholarship to compete in college. Does that mean that you can't or won't? Certainly not. But the reality of the experience is this statistical truth:
59% of all Division I student-athletes and 62% of all Division II student-athletes receive some level of athletics aid.
(And those numbers include football full-rides.)
As I said in my last recruiting piece, 34.9% of schools are allowed to offer scholarships, but given what we know above it boils down to this–––––– Half of your D1 and D2 teammates aren't receiving any athletic aid. None of your D3 teammates are receiving anything either. I'm sure the NAIA numbers are similar to D1/D2, while WCLA players are playing to play. And JuCo? Well, scholarships do exist, but it's rare.
So that's 150 programs out of 800 that'll help you athletically, or about 18.75% instead of 34.9%. Then, once you figure out that many schools are locked into what they've spent from a scholarship budget standpoint or have already locked up their recruiting class, the percentages get even smaller.
It's not impossible, but the odds of finding money are less than finding a right-sized school. That's real information, from a real coach.
Go after what your heart wants and stop at nothing to get it.
---
Thanks for reading. If you'd like to shoot me an email, you can do so here. You can also fill out a recruiting form or visit our recruiting website to learn more about myself and the 'Fish. Sail on,
–Coach Schmidt, Palm Beach Atlantic University