#HeyRecruit: Want to stand out during COVID?
This post is the fourth in a series about recruiting for high school athletes and their parents. Here are links to part one, two, and three. Enjoy!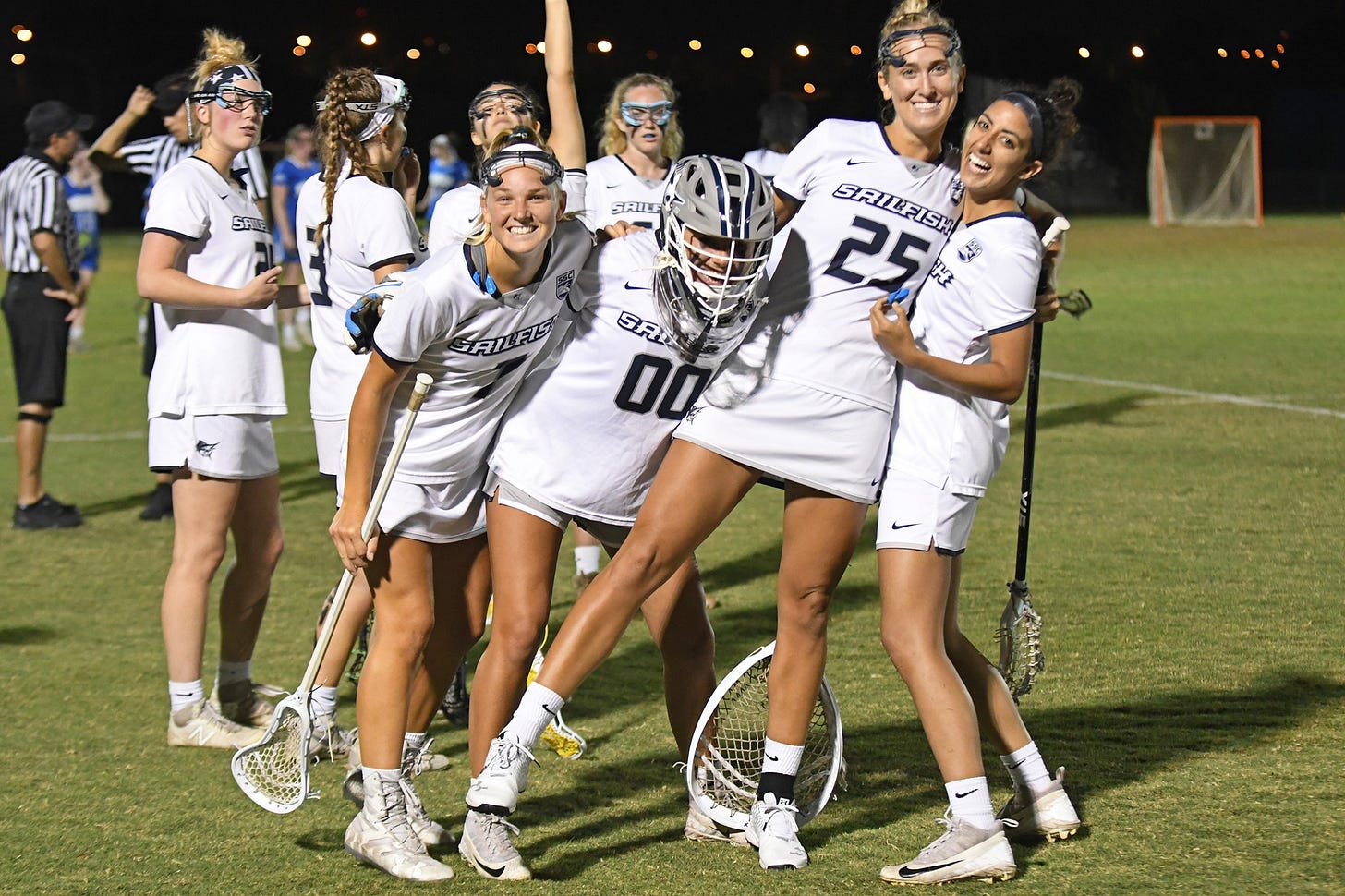 We live in a weird world.
Thousands of high school athletes (and college coaches like myself) are making the best of an unexpected recruiting landscape as a result of COVID-19.
Nobody wanted our seasons or our summers to be cancelled. The health and safety of our global community is paramount though, so alas, here we are.
I would have been one month into my summer recruiting schedule at this point. A whole bunch of future Sailfishies would've been swimming to various recruiting events around the country, with parents toting coolers, tents, and sunscreen along the way.
Instead, we're all at home. While things are slowly kicking up, what if you never played in a tournament this summer? What if every fall tournament got axed?
For rising seniors, are you content with where you stand among college coaches? Would you rather turn three options into six or ten?
For rising juniors, this is your time. What if you don't connect with your dream school? What if nobody sees you play?
While some might blame their present circumstances for not getting what they want in life, that's not you. You were created as a powerful person who makes powerful decisions and takes hold of her future. While this season may be frustrating, think of it as an opportunity to stand out. Here are five keys to stand out during COVID summer:
---
1. Establish a timeline.
As a coach, I have a timeline. It's a steady progression that leads to visits and commitments until our class is full. You should have a similar process.
Every student-athlete is different, even those in the same grad year. What's important is to sit down with those closest to you and determine what makes sense for coming to a decision.
If "being done" matters most, create a shortened timeline and communicate it with the coaching staffs that you're speaking with. If you'd like to increase your exposure because of COVID and extend your recruitment well into your senior year, communicate that too.
On your timeline, you should plot out:
Events you'll attend (tournaments with your team and camps/clinics individually)

SAT/ACT testing days (and if you plan on taking them more than once)

Dates that work for college visits

A period of time where you think you'll make a commitment

Signing Day (the second Wednesday in November of your senior year)
The key is to create a timeline and communicate it so that both player and coach are on the same page.
Pro-Tip: Make sure you create multiple scenarios! COVID has proven to be unpredictable. What's your alternative if more events get axed? What happens if the school you commit to pauses (or eliminates) the program? Instability abounds. Be prepared.
---
2. Get your words right.
Positioning is everything.
On the lacrosse field, the length of one stick is the difference between a high quality scoring opportunity and an easy save. In getting recruited, how you position yourself is vital to standing out amongst college coaches. Whether the coach is getting hundreds of emails per day or thirteen emails in a year, you still have a responsibility to stand out from the crowd.
The other day, I received an email from a prospective student-athlete. She said, "My name is xxxx xxxxxx and I am from Alabama (although I am from Alabama, I urge you guys to keep reading)."
In one sentence, she found a way to stand out from the crowd. She found a way to own her story ("It doesn't matter where I'm from.") and did it in a memorable way (with humor). To that end, your story must reflect who you are and what you want.
You cannot be afraid to be who you are. I'm one coach out of thousands, but I want you to be weird. If it turns out that our levels of weird don't match perfectly, that's fine, because I guarantee there's a coach out there who will LOVE you.
Pro-Tip: It's one thing to accidentally not change the name of the school when you email a coach (which happens more than you'd think), but it's another to really personalize an email that is designed to make an impact. Coaches know a form email when we see one. If you take a moment to say one positive, accurate thing about my program or university, I will take you more seriously as a result.
---
3. Execute your plan.
Once your messaging conveys who you are and what you want, the next step is to roll out that information.
You don't need to drop every single thought to a coach in one email. Just like you won't read the marathon-email sent by the coach at Wordvomit College, the same standard applies.
Break up your thoughts into multiple emails and schedule them into your timeline. Not only will that create opportunities for better feedback, your increased presence in their inbox will increase your chances for success.
Pro-Tip: There are many ways to execute. You can choose an email marketing platform to get your information out there (like MailChimp). I've seen prospective student-athletes point coaches to personalized recruiting websites (You don't need something crazy. I suggest Wix or Squarespace.). Of course, nothing makes an impact like good, old-fashioned letters in the mail.
---
4. Get on campus.
As of now, most college coaches are not allowed to contact or evaluate prospective student-athletes off-campus due to NCAA legislation. Eventually that will change, but for now, the on-campus visit may be one of the most important ways to stand out to college coaches.
Begin by asking if they have any camps, clinics, or prospect days upcoming and understand that every school is different.
At Palm Beach Atlantic, we hold a relatively minimal amount of events by nature of our proximity to Presidents Cup in November. This fall, we'll hold two September prospect days and then five nights of events surrounding Pres Cup.
That differs from most colleges, I'm sure. We don't run a summer camp and we run limited events in the spring, but we'll see hundreds of girls on our campus over a week in November, so it evens out.
If you can't make a program's specific event, work with their coaches to find a date to visit on your own. Make sure to cross-coordinate with admissions, too.
Pro-Tip: Every college is different. Some schools are currently prohibiting unofficial visits by PSAs. If a visit to the college campus of your choice is unavailable this summer, ask the coach if they are offering times to visit in the fall.
---
5. Close the deal.
You control your future.
Remember how I said that your messaging must reflect who you are and what you want? By this point, coaches should absolutely know your personality and your interest level. If you stick to your game plan and can see yourself at a prospective institution, waste no time in doing whatever it takes to make a commitment happen.
Ask the question, "Coach, what do I need to do to become a committed member of your class?"
By asking this, your intent has been made very clear while respecting that there may be more steps ahead in the process.
Pro-Tip: This phase is a great time to reference your process with the coach. If you are nearing the end of your timeline, it is fair to say so.
---
Take control.
Your recruitment will ultimately result in an opportunity to study at the college of your choice for a reasonable sticker price. No matter the circumstances (whether a global pandemic or otherwise), you have a responsibility to earn every opportunity, so get out a piece of paper and start making it happen!
Let me know in the comments if this provided value to you or if you have questions, ideas, or thoughts.
---
Thanks for reading! 
Creating Future Wins is my blog about life, leadership, and lacrosse. My heart is to create a mixture of writing that you can't find anywhere else and I'd love for you to be a part of this journey. Hit that subscribe button. Shoot me an email if you'd like to learn more about our program at Palm Beach Atlantic University.
Let me know your thoughts. Email me or @ me on Twitter (@JaysonSchmidt).
–Coach Schmidt