Fail to plan? Plan to fail.
If you're missing a gameplan for success, you're missing out.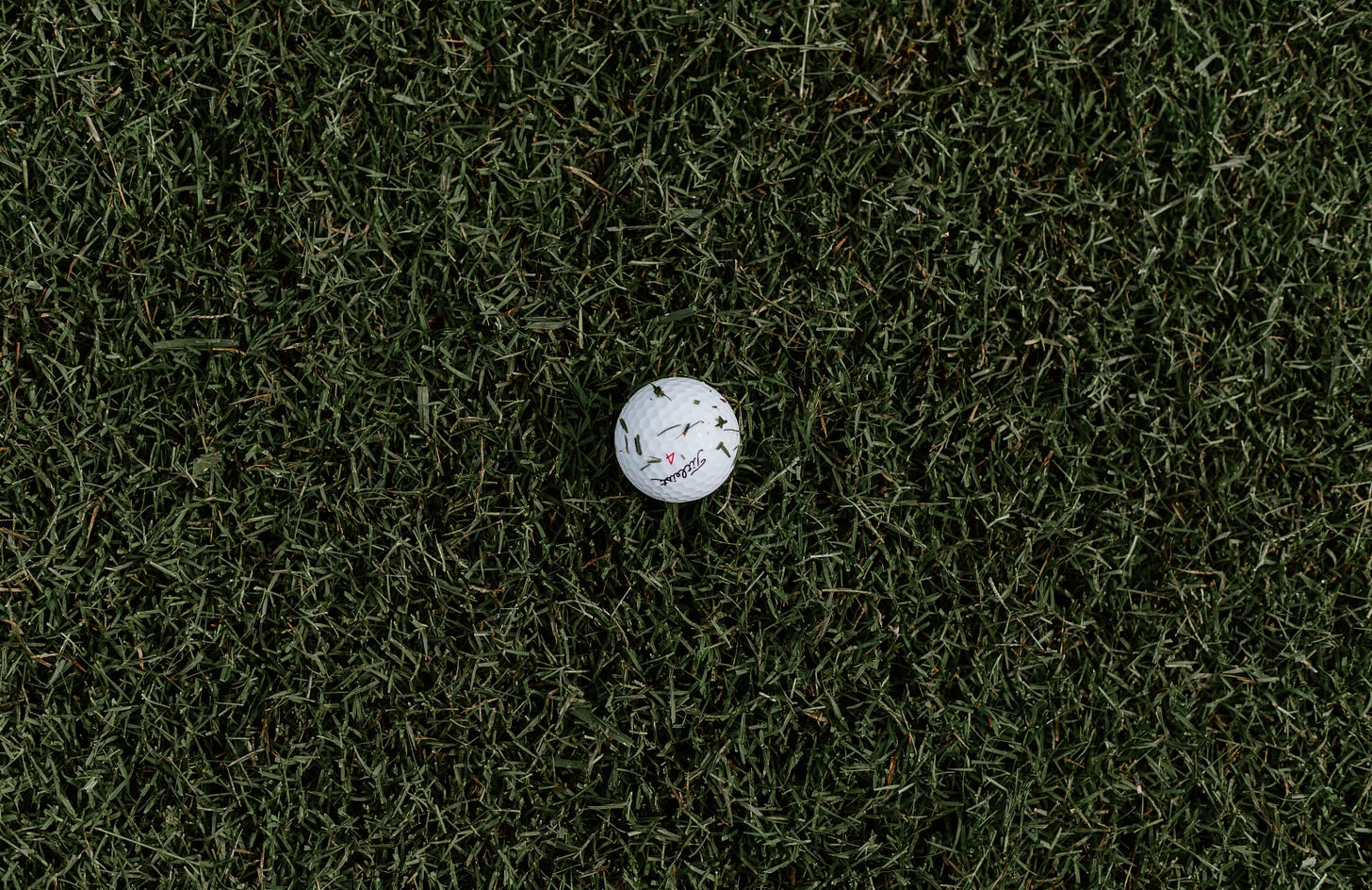 Here's another golf analogy for you.
Every time I step onto a golf course, I have a gameplan. (Spoken like a true coach.)
In the day or two leading up to playing that course, I'll map out landing areas for each shot and personal goals, like strokes per hole and greens in regulation.
My intent when I get on the golf course is to have fun, be good, and leave nothing to chance. The best way I can do that is to chart my course ahead of time so that when it blows up in my face, I feel confident in my ability to adapt.
You know the old Mike Tyson soundbite: "Everybody has a plan until they get punched in the mouth." And yes, that's true. But I am of the belief that having a plan allows you to pivot when your head is spinning and you need a "next move".
It's like my calendar, which is pretty regimented.
As I block out each day (something I wrote about here), it gives me freedom and flexibility.
Planning creates flexibility to adapt.
---
Life is unexpected.
Whether that's on the golf course (four straight double-bogeys), the lacrosse field (an opponent goes on a run), or in the boardroom (a pandemic happens and crushes your bottom line this quarter), the unexpected can happen to anyone.
I never want to be caught off guard by that which is out of my control.
It's so much easier to let it ride Vegas-style and see what happens, leaving myself to tend to other priorities or soothe my seeming lack of self-discipline. But that doesn't protect against failure or get you out of it.
You must plan.
---
Risky Business
Last week, I talked about risk.
This week, we are talking about risk. If you don't know what separates a good risk from a bad risk, you'll miss out on plenty of opportunities. Consequently, you'll take the wrong chances and become snakebitten as a result.
It's like I mentioned on the golf course. A bad risk would be hitting a shot that spends 50% of its' ball flight over water with little room for error. That's just asking to score an eight on the hole.
Another example – I've picked up pickleball recently… and by that I mean I've played twice. It's fun, exhausting, and has allowed me to utilize all tennis muscle memory to get pretty decent, pretty quickly.
One thing I'm learning is how strategic the game becomes at the net. My tennis acumen wants to sit at the baseline and hit groundstrokes all day, but points are won in close proximity with limited reaction time.
If you can read a situation properly in pickleball as in life, you can attack when it suits you and turn a risk into a winning opportunity. Likewise, if you play timid, you'll eventually encounter that same risk on your back foot, playing an average shot and praying I don't bury it back into your face.
I would apologize, though. It's a gentlemen's game.
If you'd like to learn more about making risks count, read last week's article.
---
The Little Win* 
Creating a plan is essential to identifying areas where you can turn risk into success.
Perhaps asking you to revamp and plan your business, team, or (quite frankly) yourself, is too overwhelming. Let's start with this:
Look at your schedule for the next week. What does it look like? Perhaps it's not as demanding as it normally might be due to COVID.

Attempt to block out your schedule into a weekly rhythm. If you've been sleeping from 11:00 pm to 7:00 am everyday, block it out. If taking the dog for a walk at 5:30 pm is a thing, put it down.

Once you've got your week blocked out, begin keeping track of how you kept to that plan. Make notes on what timing was idealistic and in what ways you held firm. Revamp for the next week and try it again for a total of one month.
This process is flexing your adaptation muscle.
Naturally, our schedules will change. The key in this process is to derive as much value from the adjustment and focus on efficiency.
Give it a try and let me know how it goes.
*The Little Win is a call-to-action that helps us become the best version of ourselves.
---
Thanks for reading! 
Creating Future Wins is my blog about life, leadership, and lacrosse. My heart is to create a mixture of writing that you can't find anywhere else and I'd love for you to be a part of this journey. Hit that subscribe button and of course, if you value what I'm doing here, I'd love for you to subscribe to my premium content.
Let me know your thoughts. Email me or @ me on Twitter (@JaysonSchmidt).